aCam
aCam – is an application for photo editing. This is a simple application that encourages personal style for the creation of unique images. Read more at https://appus.software/work/portfolio
Works:
Dukan Diet
Dukan Diet is an application for those who deeply value their health. This is a paid app with in-app purchases. With this application, you can design menus, prepare dishes based on raw foods, and tightly control your diet.
Product:
iOs apps,
Healthcare and fitness app for iOS
Works:
Wolk Motivator
Walk Motivator is a fitness and lifestyle app for walk lovers. Users can track the progress, get rewards and compete with their friends.
Product:
android/iOS platforms,
Fitness application
Works:
Notifire
The Notifire App allows building occupants to receive secure messages from building owners/managers who have subscribed to the service. Notifire also provides a means for the Fire & Rescue Service (FRS) to provide advice and, in emergency situations, reassurance and instructions to residents. We've achieved the following results: + Admin panel was created; + UI/UX design; + iPhone app; + Android app; + Backend; + Frontend; + PUSH notifications; + Chats.
Product:
app for firefighters,
android/iOS platforms
Works: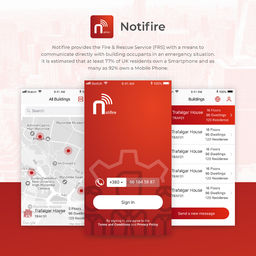 Live Weather - weather forecast app
Explore weather forecast with our beautiful designed ap with lovely weather animations. The app displays weather, precipitation forecast, wind direction, and speed.
Industry:
Information services & Technologies
Works:
iDoRecall
IDoRecall is a web app that empowers students to remember everything they learn by making spaced-repetition digital flashcards (recalls) that are linked to any content, such as websites, study notes, Word docs, PDFs, PowerPoints, photos of a friend's lecture notes, almost any kind of image file and so much more. etc. Basically, it's a workout for our memory that creates a more powerful memory.
Works:
Viara
A software tool for hosting and configuring 360° renderings online.
Industry:
Construction & Real estate
Product:
real estate portal,
VR application,
Development of Travel and Real Estate Applications,
business web app
Works:
Display stand
Display stand - an app created for the demonstration of technology and gadgets. This Android application for tablets is for internal use and is used as an exhibition and trading platform. The application allows users to see information about the products, as well as postpone, buy and pay for the items. Display stand is synchronized with the site, where the buyers can create an account and manage their purchases. Vendors have the ability to manage goods, orders, payments and delivery.
Works:
AVPartners
Website for resolving a potentially challenging problem for users of the newly installed LED screens in the hotels. Due to the fact that customer Powerpoint presentations generally aren't formatted to correctly fit the corresponding screen formats, this website allows customers to "drag&drop" their presentation onto their chosen LED screen configuration to preview how it would look like on the screen and in the room.
Product:
software for mixed type presentation
Works:
View Star
View Star is an iOS app for space discovering. AR/VR features allow users to look at, learn about, discover and interact with stars, planets, galaxies, and constellations. Read more at https://appus.software/work/portfolio/view-star
Product:
educational app,
Mobile iOS application
Works: