Alex Schneider, CEO & Owner at Life4Me+, Switzerland
Life4me.plus
The application allows patients to receive news about HIV infection and related diseases, events and people. The GPS navigator helps patient find a nearby hospital, clinic, or HIV community throughout the world. It helps to conveniently organize their medication intake timetable and set concealed and personalized reminders, get doctor's recommendations, and schedule doctor's appointments or blood tests.
Works:
Internal project
CREW
Web service for tracking time, which associated with the development of software. Manage the development process, including creation company account, project, assign a user to project like a team member and progress report using web service or mobile app.
Industry:
Business & Productivity,
Information services & Technologies
Product:
app for project management,
Time tracker
Works:
Internal project
IoT solution for exchanging contact information using iBeacon technology
An application for automatic exchange of companies or individuals contact details using the iBeacon technology and distribution of promotional materials of the companies within the exhibition stands areas. The application provides contact information related to nearby BLE transmitters, allows to bind data to transmitters. The application has been developed in 2 months and presented on the local IT conference.
Industry:
Information services & Technologies
Product:
Advertising & contact exchange mobile application
Works: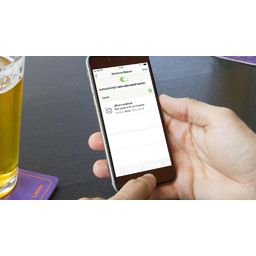 Tim Baldwin, FourThirtyAm, Phoenix, USA
RedCapture.com
Provides an easy way to collect and update clients' data using the web interface, stores these data into Redtail CRM. Was developed two sites: one for financial advisors and second for their clients. The first site provides the possibility to configure which data should be collected from clients. The second site provides clients with a bunch of forms for filling. Currently, the system is integrated with Redtail CRM: authentication and data scope.
Industry:
E-Commerce & Retail,
Banking & Finance,
Advertising & Marketing,
Insurance & Risk Management
Works:
Shauki Elassaad, Founder & CEO of In-Depth, Inc., San Francisco
In-Depth.co
AI-powered Software as a Service (SaaS) for Marketing and Sales. Onlinico developed web and iOS app with cloud and Salesforce integrations. iOS app was rewritten using Swift 3.4 and based on proven frameworks: Alamofire, Kingfisher, Charts, SalesforceSDK, PurchaseKit. The application included social networks integrations and in-app purchases. Web app was built on a modern, powerful web stack: React, Redux, and CSS-in-JS (styled-components) were used to build this Progressive Web App (PWA).
Industry:
Business & Productivity,
Data Science & Machine Learning
Product:
B2B platform,
business web app,
B2B mobile application
Works:
Tomas Baran
ambeeapp.com
An iOS/IoT application for Philips Hue dynamic light animations. This animated lights app was designed for Philips Hue smart bulbs to provide a collection of handcrafted animated scenes. The app allows you to connect to smart lamps and apply different light scenes. A user could choose the desired scene right from their iPhone and enjoy the beauty of light. The project required us to work with the Philips Hue SDK.
Industry:
Architecture & Design,
Entertainment & Games,
Arts & Culture,
Home & Garden
Product:
Mobile iOS application,
IoT Application
Works: