Altkom Akademia
Educational website improving employee skills through a wide range of IT courses and training programs. Recommended by 90% of the courses' attendees. Backend and frontend (UX/UI), including course search engine, a dynamic list of training path & dynamic menu, and extensive content management module among others.
Works:
Artists Everywhere
The new Global Talent Directory. Profiling the most exciting and emerging talents worldwide. Customized social media site dedicated to artists and sportspeople seeking employment and career opportunities. Built the entire service from scratch: portal architecture, fully responsive frontend, backend, and social media integrations among others.
Industry:
Social Media & Communication
Works:
Cottage Portal
A ground-up redesign and development of a real estate rentals multisite site. What we did: multisite to manage several websites from one CMS, frontend (including graphic design), payment module (PayPal) integration, advanced search module.
Industry:
Construction & Real estate
Works: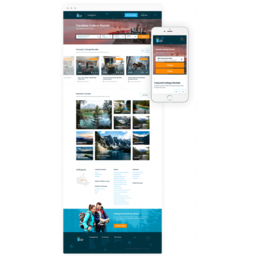 Dock & Bay E-commerce Multistore
Modern, functional, and effective Magento 2 multistore allowing clients from all over the world to buy exclusive beach towels. Custom implementation of collections algorithm, checkout page (one page, one-step checkout, custom cart on the checkout page), configurable products algorithm (auto-selecting specified swatch options, rendering specified thumbnail images), related products module, and more.
Works:
Easton e-commerce shops and customized websites
Customized e-commerce websites and blogs for several businesses (Easton Cycling, Easton LaCrosse, Easton Baseball, Easton Hockey) belonging to Easton-Bell Sports (later BRG Sports): high-end sports equipment producer.
Industry:
E-Commerce & Retail,
Sports & Fitness
Works:
Legia Warsaw football club
Advanced, tailor-made applications for all football fans done in record time. Twoja Legia (Your Legia) - Website with an embedded form to collect subscribers' contact data for marketing and sales purposes. Florida Cup 2018 - Fan registration system to distribute coupons for Florida Cup games online broadcasts. Karnety VIP (VIP pass) - Website dedicated to VIP game pass ordering with data verification system and administration panel.
Product:
data collection system,
Registration Platform
Works:
Rug Pad USA
The store owners wanted to build an advanced feature that would allow custom cuts ordering and develop a new 'add to cart' tool using AJAX technology. It turned out that the store had massive performance issues. It was first built for a smaller amount of users and products so in time the page load time slowed down dramatically. The issue was fixed. Efficient cache mechanisms were implemented and the speed of the store went up.
Works:
Scandlearn
User-friendly E-learning System (LMS) for the aviation industry: solution provides training tools for first class crew and management in 600+ enterprises around the globe. We developed new functionalities such as a new course building, import/export courses from external files, progress report generation and test results calculation among others.
Works: