Twingine
Twingine
Twingine is a cloud-based solution that helps visualize and improve building efficiency from anywhere in the world by linking digital building models with external data for BIM use cases. The software is aimed at creating sustainable and space-efficient data-driven architecture projects and unlimited design options simulation to find the ideal cost and material effective answers in no time. By simply putting the data, the user gets a comparable model that gives much room to unlock an optimization potential. All data is clearly visualized and is ready to be applied for real-world projects. Our engineers have been providing services for both Front-end and Back-end development. We used TypeScript / Angular and .NET Core for the development, as well as worked on a microservices architecture using ASP.NET Core. For the Business logic project, our developers worked on the following problems: - Development of new endpoints (endpoint) for the API; - Writing unit and integration tests; - Azure Queue Storage for data exchange between projects; - Parsing data from IFC files. Not directly from files, but rather intermediate data that came to me from a project with business logic; - Twingine Building model analyzer development process consisted of three parts; - Library projects. Outcome Twingine has already been put to the test in the real world. It is successfully used by SRE in its own projects. It was used – based on models – to precisely determine and optimize space efficiency to increase the value of the building at the new office complex "The Move" in Frankfurt am Main's Gateway Gardens district. Furthermore, SRE calculated the facility's expected energy and operating costs long before the cornerstone was laid, and much more precisely than traditional methods, to show what the expected running costs per square meter would be. Twingine is also being used on two major SRE projects in Berlin: the Siemens Campus Erlangen and Siemensstadt Square.
Industry:
Construction & Real estate
Works: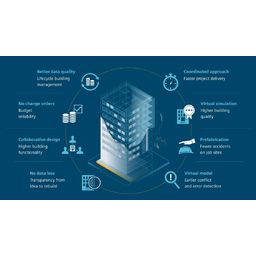 Dangl IT GmbH
Dangl.AVA
DanglIT is a Germany-based Software product company specializing in Real Estate solutions. It provides tools and consulting services around building informatics, specifically in BIM (Building Information Modelling) and tendering workflows, being a great expert in GAEB and its integration into the client's applications, as well as Cloud-based web services for tendering, calculation, and invoicing. QIT Software engineers have been working both on the front-end and back-end parts of the project. With the help of Docker, everything can be stored on one computer; it also has a database that does not require installation. Microsoft SQL is used to copy data from online sources simply. The back-end contains HTML templates for C#, and these templates were fixed by us. Our engineers have also developed the Dangl.AVA calculation module that can be used for all requirements in tendering, procurement, calculation, and invoicing (German: AVA). The C# .NET package allows users to access a full AVA solution from anywhere – desktop, cloud and mobile.
Industry:
Construction & Real estate
Product:
SaaS solution to manage both spatial and non-spatial data at all levels
Works:
NDA
NDA
It's a German platform for financial investments, owned by a company that acts as a financial broker. The platform allows users to buy and hold a range of investments, save, make provisions quickly in one place online and ensure the deposits. All operations are available through the private account's cockpit. The platform presents offers from partner banks or financial investments on the platform and provides technical services in connection with the conclusion of the deposit or investment product between the customer and the partner bank. Via the product, savers should have easy access to attractive European overnight and fixed-term deposit offers. The investment platform has a number of advantages over its competitors: it is very simple, provides high-interest rates with 104 European banks, deposit protection, and diversification. We assembled a team consisting of a product manager and UI/UX designer, two Back-end developers, and two Front-end developers to re-build the platform and add the required features. Opening an interest union account does not require any more effort than opening an account with a domestic direct bank. Transparency is always guaranteed via convenient online banking functions, which also enable uncomplicated account management and monitoring. Thus, we were focused on creating a simple yet efficient product from all perspectives.
Works: