EXPERIENCE
Industry Experience
Automotive, Travel & Tourism, Booking & Rent
PORTFOLIO HIGHLIGHTS
Jalopy
a Lead JS Developer on a project, was in a tight communication with the Backend team and the designers, did all the front work of the PWA - mainly Angular 5
It is a platform for garage owners (Vendors) and car owners (Customers) to schedule repair or car maintenance in the garage based on the chosen location. It is a PWA built on Angular5, html/css, Java for the backend, Service Worker and Firebase cloud messaging, push notifications and chats.
Technologies Stack:
AngularJS
JavaScript
Industry:
Automotive
Works:
Apr `19 – Oct `19
6 months
Cariboo
Mainly worked with JS and worked with the designer, took part in making sure the adaprtion is ok for all the devices
https://www.cariboo.co/ -Cariboo is a large travel platform that allows people to find local guides around the world, book their services and pay them right through the app. It's pretty successful and has more than 36,000 monthly visits and continue to grow significantly. The app is easily scalable and users are comfortable using it as it was correctly designed on the initial stage.
Technologies Stack:
JavaScript
jQuery
Industry:
Travel & Tourism
Works:
Homehello (UrbanYou)
Homehello (now UrbanYou) - it's an Australian marketplace for on-demand cleaning services. We designed UI/UX and implemented features like calendar and payment gateway. A platform has complex backend functionality with a successful combination of PHP/Laravel 5 and WordPress. Provided solution was instrumental to successfully pass beta stages and Homehello was recently acquired by more powerful home-service provider - UrbanYou.
Technologies Stack:
AngularJS
JavaScript
Industry:
Booking & Rent
Works: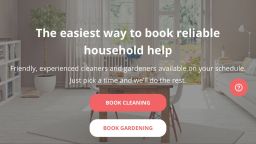 Ereferer
It is a large platform for publishers and copywriters.The platform allows you to quickly and efficiently find authors for texts and articles for your websites, blogs and other Internet resources. You will be able to set a number of publication parameters, such as the number of headings, keywords and their density in the text, the number of words in the text, etc.
Technologies Stack:
JavaScript
EDUCATION
O.M. Beketov National University of Urban Economy in Kharkiv
Civil Engineering