EXPERIENCE
Industry Experience
E-Commerce & Retail, Logistics & Transportation, Travel & Tourism
Product Experience
E-commerce multi store, Online travel booking service, Booking platform
PORTFOLIO HIGHLIGHTS
Studio Glass
Internet store with optional multilevel calculators for variable sizes and additional options of the products. Easy to use both for users (user-friendly and clear interface) and store managers (multifunctional admin-panel). Key features: variable products; multi-level calculator; custom generating of orders report; payment integration; shipping service integration; user accounts management; b2b version.
Technologies Stack:
HTML5
JavaScript
jQuery
PHP
WordPress
CSS3
Woocommerce
Industry:
E-Commerce & Retail
Product:
E-commerce multi store
Works:
Transport Management System
TMS for USA Motor Carrier & Trucking Company. The company provides a full array of TL and LTL services in dry, van and refrigerated and flatbed containers. As an All-In-One Software, the TMS is aggregating different blocks: Safety, Dispatch, Maintenance, that's why for application architecture, was applied the micro-services approach. Every service is created on .Net Core 2. and for each such block was developed RESTful services, which can then be merged with a single UI interface in Angular 5
Technologies Stack:
AngularJS
HTML5
JavaScript
Bootstrap
CSS3
Industry:
Logistics & Transportation
Works: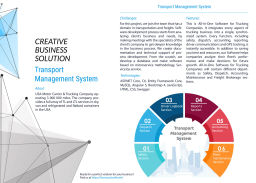 Platform for Online Bus Ticket Booking Service
Developed the web platform from scratch with options to buy tickets for the bus by few easy steps - select dates, start/end location, add personal details. Customers can book One-way & Return tickets. Admins are free to set discounts for round trips. Using an interactive seat map clients can select the seats they like by simply clicking on the icons.
Technologies Stack:
HTML5
JavaScript
Bootstrap
CSS3
Industry:
Logistics & Transportation, Travel & Tourism
Product:
Online travel booking service, Booking platform
Works:
EDUCATION
National univercity "Lviv polytechnic"
Departament of Security of computer and information systems