EXPERIENCE
Industry Experience
Information services & Technologies, Logistics & Transportation, Banking & Finance, Healthcare & Medicine
PORTFOLIO HIGHLIGHTS
Dairy farm management software
Develop software to simplify the life of dairy farmers/organizations by creating dairy herd data analyzing software. The report is helping the farmers to analyze herd performance by each cow and in general. This software helps farmer calculate protein and energy components of the feed ration, Improve the quality of milk and Determine cow disease in the early stages.
Technologies Stack:
C#
Visual Studio
.NET Framework
Windows Presentation Foundation (WPF)
MVVM patterns
Industry:
Information services & Technologies
Transport Management System
TMS for USA Motor Carrier & Trucking Company. The company provides a full array of TL and LTL services in dry, van and refrigerated and flatbed containers. As an All-In-One Software, the TMS is aggregating different blocks: Safety, Dispatch, Maintenance, that's why for application architecture, was applied the micro-services approach. Every service is created on .Net Core 2. and for each such block was developed RESTful services, which can then be merged with a single UI interface in Angular 5
Technologies Stack:
ASP.NET
C#
MySQL
Entity Framework
Swagger
Industry:
Logistics & Transportation
Works: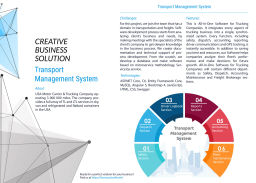 Jan `19 – May `19
4 months
MVP for Stock data aggregation web platform
Full-Stack .Net Developer
Based on the final layout, I developed the functional part of the web application on Angular 7, created the basic structural units of web applications, and used them to develop a whole web application, mapped response object data to the UI field according to mockups. Redux was also used to develop a filtering function as it allows to accelerate the development cycle, decrease development time and improved extendibility.
Israel
The development of MVP for Stock data aggregation web platform, which aggregates stock data from a variety of services and displays them in a user-friendly state. The design studio was involved in forming the UX / UI structure, the general user architecture of the web platform.
Technologies Stack:
CSS
JavaScript
PostgreSQL
TypeScript
Bootstrap
HTML
Scrum
Redux
Swagger
Angular 7
Industry:
Banking & Finance
Sep `18 – Nov `18
2 months
Management system for clients of drugstore chain
Full-Stack .Net Developer
Create a management system for drugstore chain clients.
Australia
Creating the management system for the drugstore chain clients. This system creates and sends reminders for clients about various promotions, drugs purchasing needs, analyzes previous purchases, bonuses that the client has in his account, synchronizes with other databases. The customer receives notifications via SMS with Twillio, email via Sendgrid
Technologies Stack:
CSS
Twilio
HTML
MSSQL
.NET Core
Angular 7
Industry:
Healthcare & Medicine
EDUCATION
National University ''Lviv Polytechnics''
Bachelor`s Degree in Computer Engineering