EXPERIENCE
Industry Experience
Logistics & Transportation, Information services & Technologies
PORTFOLIO HIGHLIGHTS
Transport Management System
Team lead, Full Stack .Net Developer
TMS for USA Motor Carrier & Trucking Company. The company provides a full array of TL and LTL services in dry, van and refrigerated and flatbed containers. As an All-In-One Software, the TMS is aggregating different blocks: Safety, Dispatch, Maintenance, that's why for application architecture, was applied the micro-services approach. Every service is created on .Net Core 2. and for each such block was developed RESTful services, which can then be merged with a single UI interface in Angular 5
Technologies Stack:
AngularJS
ASP.NET
C#
HTML5
JavaScript
MySQL
Bootstrap
CSS3
Entity Framework
Swagger
Industry:
Logistics & Transportation
Works: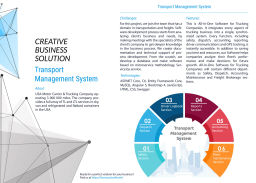 Jun `18 – Apr `19
10 months
Dairy farm management software
.Net Developer, Team Lead
Develop software to simplify the life of dairy farmers/organizations by creating dairy herd data analyzing software. The report is helping the farmers to analyze herd performance by each cow and in general. This software helps farmer calculate protein and energy components of the feed ration, Improve the quality of milk and Determine cow disease in the early stages.
Technologies Stack:
C#
Visual Studio
.NET Framework
Windows Presentation Foundation (WPF)
MVVM patterns
Industry:
Information services & Technologies
EDUCATION
National University "Lviv Politechnic"
Master's degree in Computer Science