EXPERIENCE
Industry Experience
Business & Productivity
Product Experience
Marketplace, SaaS, B2B platform
PORTFOLIO HIGHLIGHTS
Nov `18 – Jul `19
8 months
Switch App
Lead Developer (backend, frontend, DevOps)
Switch Tech, Inc
Switch is a mobile-only job-matching app that connects candidates directly to hiring managers. Candidates upload their resumes and connect their social and professional media profiles, but remain anonymous while searching. Users receive a daily set of job recommendations that fit their backgrounds and salary criteria, and swipe right to apply.
Technologies Stack:
AWS
Django
Heroku
PostgreSQL
Python
Elasticsearch
RESTful API
Celery
Docker
Works:
Oct `16 – Jul `19
2 years
HiByron
Lead Developer / Team Lead
An automation platform for virtual assistants, SaaS. Includes integration of multiple 3rd party APIs, including Google, Twilio, Stripe, Slack and others.
Technologies Stack:
Django
Google API
PostgreSQL
Python
Stripe
Elasticsearch
Redis
Twilio API
Celery
Slack
Industry:
Business & Productivity
Product:
Marketplace, SaaS, B2B platform
Works: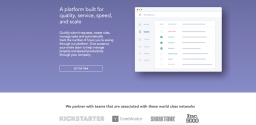 EDUCATION
ZNU
Bachelor of Computer Sciences