EXPERIENCE
Industry Experience
Banking & Finance, Photo & Video, Fashion & Style, Films & TV, Blockchain & Cryptocurrency
Product Experience
Blockchain-based platform, ICO Tokens, ICO, video streaming app, Video streaming, networking, Event Networking, Mobile app for Video conferencing and Messaging, Middleware for integration of wallet services and consumers, Cryptocurrency
PORTFOLIO HIGHLIGHTS
Sep `18 – Present
10 months
Securitize
Securitize is proud to provide industry-leading tools and services for issuers of, and investors in, digital securities. We are dedicated to providing our customers with services that will ensure their funding and capital management success.
Technologies Stack:
AngularJS
Industry:
Banking & Finance
Product:
Blockchain-based platform
Works: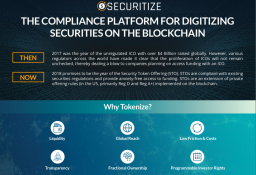 Sep `18 – Present
10 months
Hacera
HACERA uses Zero-Knowledge proofs to solve inherent problems relating to privacy, data confidentiality and transaction unlinkability. HACERA allows blockchain participants to transact freely without worrying about others being able to "profile" them, and see all of their transaction history, prices, amounts or even counterparties.
Technologies Stack:
Node.js
Product:
Blockchain-based platform
Works:
Oct `18 – Jul `19
9 months
Zafeplace
Zafeplece is platform which provides access to the Ethereum solutions. Zafeplece included user controlled Ethereum wallet and solution for easy integration of third party services. Integrated KYC system and blockchain based Identity mechanism are helping to obtain top level security.
Technologies Stack:
JavaScript
Node.js
Ethereum
Stellar
Product:
ICO Tokens, ICO
Works:
Sep `18 – Jul `19
10 months
FAMER
Famer is a video challenge network for posting videos of different challenges. Users are able to: • Create video and post it to enter a challenge. • Compete in different challenges and win real prizes. • Watch videos from your friends and other Famers from all over the world. • Share Famer videos in other social networks.
Technologies Stack:
JavaScript
Node.js
Industry:
Photo & Video, Fashion & Style, Films & TV
Product:
video streaming app, Video streaming, networking, Event Networking, Mobile app for Video conferencing and Messaging
Works:
CoinDrive
CoinDrive - simple and secure way of managing Bitcoin shared funds. The payment system allows people to create and easily manage shared wallets. CoinDriveBot provides flexible management of shared funds (BTC), using SHARED wallet directly in Telegram. When a new person joins the conversation, it can easily set up daily limits, transaction limits, administration permissions, etc.
Technologies Stack:
Ethereum
Industry:
Blockchain & Cryptocurrency
Product:
Middleware for integration of wallet services and consumers, Cryptocurrency
Works: