EXPERIENCE
Industry Experience
E-Commerce & Retail, Fashion & Style, Banking & Finance, Blockchain & Cryptocurrency, Advertising & Marketing, Healthcare & Medicine, Social Media & Communication
Product Experience
A crypto-currency exchange, Cryptocurrency, Cryptocurrency Website
PORTFOLIO HIGHLIGHTS
Suitable you - Personal Stylists Ecommerce Solution
UI/UX designer / front-end developer
Suitableyou.com is a personal style service. With Suitableyou, you can discover great clothes that are perfect for you without having to go shopping. To start, a user simply provides style, size and price preferences with their personal stylist by completing a simple quiz. They are then able to order a box of clothes with no advance payment and have it delivered to their door. Suitable you was launched with great customer experience in mind to compete with Stich Fix, SoYou and Trunk Club sites.
Technologies Stack:
AngularJS
Sketch
InVision
Industry:
E-Commerce & Retail, Fashion & Style
Works:
Smart home IoT solution provider
The solution consists of hardware items installed on heating devices and windows which are connected through a wireless network to software and cloud back-ends manage remotely. Through the control panel users can see current temperatures, reports, notification messages and configure heating parameters. There is a free mobile app (iOS and Android) that goes with the software that allows the user to take control of home heating from any place of the world.
Technologies Stack:
Sketch
Illustrator
Works:
Advanon - Factoring solution for SMEs
This project transformed the entire industry of factoring in Germany and Switzerland. The biggest change we brought to the market is an ability for SMEs to get invoice financing within just 1-2 days while traditional factoring takes 4-8 weeks in average; company can also select which invoice to sell and not required to sell all its invoices; no risk of client relationships.
Technologies Stack:
Illustrator
Photoshop
Industry:
Banking & Finance
Works: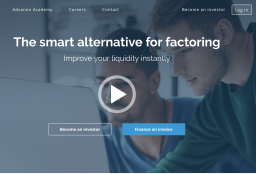 Cryptocurrency Trading
Cryptocurrency trading platform
Technologies Stack:
InVision
Industry:
Blockchain & Cryptocurrency
Product:
A crypto-currency exchange, Cryptocurrency, Cryptocurrency Website
Works:
Jun `17 – Sep `19
2 years
eSourcing Solution
Lead designer, front-end developer
Market Dojo offers multiple web-hosted software solutions that aim to assist in multiple areas of the procurement process. The product is On-Demand eSourcing Solution developed by experts has the capability to run questionnaires, RFQs, both forward and reverse online auctions for an unlimited variety of sourcing and asset disposal activities. Market Dojo also offers fully weighted capability, free Sandpit tool and public sector functionality.
Technologies Stack:
Sketch
Industry:
Advertising & Marketing
Works:
May `17 – Sep `19
2 years
Online store for nutrition brand
Our team delivered an online store for a new nutrition products brand launched in France. It is targeting to a wide range of audience by providing nutrition solutions. As this is the only site of the company it has several pages to present company's features and product benefits among the store. It also has extended ecommerce features providing customers with nutrition advice, product recommendation engine, product subscription and free e-books to download.
Technologies Stack:
Sketch
InVision
Works:
Mar `17 – Sep `19
2 years
PPC Management and Reporting
This tool was developed as a custom SaaS solution for global market that combines all popular PPC providers such as Google, Bing and Facebook in one place. Users can manage ads and campaigns, generate reports and optimize ad-performance. The most challenging part was to develop a reliable back-end architecture that could handle and process big data and that could be easily extended as the business grows.
Technologies Stack:
Sketch
Industry:
Advertising & Marketing
Works:
Feb `17 – Sep `19
2 years
The Patchery - Custom Made Kids' Clothing Website.
It is one of the most interesting projects. To enhance a website that lets children create their own clothes is a rewarding experience. The initial idea was to redesign the website and add new features to it. The client wanted to improve the whole style concept, make the store clean, simple and intuitive for both parents and their kids.
Technologies Stack:
Sketch
Illustrator
Photoshop
Industry:
E-Commerce & Retail
Works:
Jan `17 – Sep `19
2 years
Jan `17 – Sep `19
2 years
Social Content Marketing Solution
Our team launched a brand new social content marketing application to compete with Buffer and other popular services. This solution replicates all features of Buffer and Hootsuite, but also brings some new functions aimed to simplify and improve social marketing processes.With Social Content Planner you can put all social marketing activities on auto-pilot using two scheduling engines.
Technologies Stack:
InVision
Industry:
Advertising & Marketing, Social Media & Communication
Works: