EXPERIENCE
Industry Experience
Sports & Fitness, Arts & Culture, Logistics & Transportation, Travel & Tourism, Business & Productivity, Booking & Rent
Product Experience
Corporate website with blog, portfolio website, Car rentals web site/ platform, Online travel booking service, Booking platform, SaaS web platforms
PORTFOLIO HIGHLIGHTS
Sep `18 – Mar `19
6 months
Website for profectional Explorer
https://www.mikehorn.com/
A website of a professional explorer Mike Horn who has seen more of the Earth than possibly any other human. The purpose was to develop a website with modern design and the ability of Mike's subscribers to follow his expeditions, read the blog and easy buy books from Mike's online store.
Technologies Stack:
HTML5
JavaScript
MySQL
PHP
WordPress
Bootstrap
CSS3
Woocommerce
Industry:
Sports & Fitness, Arts & Culture
Product:
Corporate website with blog, portfolio website
Aug `18 – Mar `19
7 months
Biggest Vehicle Marketplace Online
Europe
This project was to redesign the Vehicle Marketplace Platform to a new more powerful platform. The main challenge was to build server architecture to withstand the load of 1,000,000 users every day. Developed a WordPress site as a part of the main Vehicle Marketplace Platform where the user can buy or sell any type of vehicle by the specific filters and migrate all data from the old website to make users feel like they are continuing using the same web platform.
Technologies Stack:
HTML5
Kubernetes
MySQL
PHP
React.js
WordPress
Bootstrap
CSS3
Nginx
Redis
Woocommerce
WordPress e-Commerce
Docker
Industry:
Logistics & Transportation
Product:
Car rentals web site/ platform
Oct `17 – Aug `18
10 months
Platform for Online Bus Ticket Booking Service
Middle Back-End Developer
Developed the web platform from scratch with options to buy tickets for the bus by few easy steps - select dates, start/end location, add personal details. Customers can book One-way & Return tickets. Admins are free to set discounts for round trips. Using an interactive seat map clients can select the seats they like by simply clicking on the icons.
Technologies Stack:
JavaScript
jQuery
MySQL
Bootstrap
Yii2 PHP Framework
Industry:
Logistics & Transportation, Travel & Tourism
Product:
Online travel booking service, Booking platform
Works:
Jan `18 – Jul `18
6 months
Expert Advice Web Application
Middle Back-End Developer
USA Customer
Web Application with the microservice architecture where clients can get advice from the experts. Communication between advisor and client was realized by using Twilio API with recording functionality. A stack of technologies is PHP 7 (Laravel Framework), JavaScript (AngularJS, JQuery), Authorize.NET, WordPress CMS, Amazon Web Services for hosting and database etc.
Technologies Stack:
API
Authorize.Net
PHP
QuickBooks
Git
Orchard CMS
Twilio API
Bitbucket
Industry:
Business & Productivity
Product:
SaaS web platforms
Nov `17 – Mar `18
4 months
Rental Platform
Middle Back-End Developer
The approach was to build the largest and innovative rental service which would be using millions of Bangladesh users and it should be working proper and fast. The web platform was created on Yii2 Framework using MySQL and JQuery. The system front-end framework was built on Bootstrap 4 and Javascript. Users can easily rent or take from Bdrent, with a protection the interests of both parties.
Technologies Stack:
API
HTML5
JavaScript
jQuery
MySQL
PHP
Bootstrap
CSS3
Industry:
Booking & Rent
Product:
Booking platform
Works: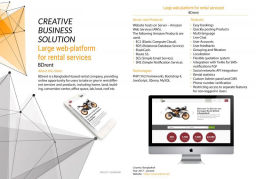 EDUCATION
National Forestry University Department of Computer Science and Modeling Processes
Bachelor's Degree in Computer Science Ukrainian