TECH STACK
EXPERIENCE
Industry Experience
E-Commerce & Retail, Service & Support, Business & Productivity, Construction & Real estate
Product Experience
E-Commerce platform, Web portals, Data management system, web application, SaaS projects, application for construction industry
PORTFOLIO HIGHLIGHTS
E-AGEO - Beauty Products When You Want Them, Household Goods When You Need Them.
Development of new features for E-commerce portal with over 35k household products for sale.
E-AGEO.cz is a Czech retailer specializing in beauty, health care, and household products
After building the e-commerce platform, we keep in close contact with the client providing frequent updates and recommendations. Ageo.cz became a fully-automated trade channel: Integration with Nielsen Brandbank. Payment gateway integrations. A wide variety of discounts and coupons: automatic product-based discounts, order-level discounts, coupon codes and more. Great UX throughout the buyer's journey. Mobile experience just as good as the desktop experience. Technical SEO-optimization.
Technologies Stack:
CakePHP
MySQL
Elasticsearch
Industry:
E-Commerce & Retail
Product:
E-Commerce platform
Works:
www.innmeldt.no - Pension Consulting Made Easy
Full-stack development, retirement, and Insurance calculation for Norway customers accordingly to Norway law. Calculation insurance module. Integration with Norwegian Pension Fund. Integration with third-party services FastVariable, Norsk Pension, Choo platform.
Innmeldt is a consulting agency that advises top Norwegian companies and employees on pensions and insurance.
We built portals and member management system that streamlined the whole consulting process: Information portals for top Norwegian companies where employees can calculate their future pensions using customized formulas. Integrations with Aksio and Norsk Pensjon insurance systems that provide data for calculations. Online editing and invoicing for admins; mass mailing via SMS/email. A Document library that allows visitors to view all the necessary information about pensions in their company.
Technologies Stack:
CSS
Ember.js
Node.js
PostgreSQL
HTML
Industry:
Service & Support
Product:
Web portals, Data management system, web application
Works:
Jun `17 – Jan `18
7 months
Under NDA - Email Signature Builder
Developing an application for Windows (8.1-10).
The company initially created email signatures on a demand basis as a web design agency
MindK worked closely together to develop a SaaS platform that allows building, managing and deploying personal email signatures, either custom or based on designed, tested and coded HTML templates. It offers a live editor and all the tools necessary to customize signatures for you or your brand anywhere and at any time. 20+ HTML signature templates to satisfy the needs of everybody from a student to a business owner. Intuitive dashboard to manage all your email signatures from one place
Technologies Stack:
C#
WPF
Industry:
Business & Productivity
Product:
SaaS projects
Works:
CINX - Powering Today's Construction Industry in the USA
Development of functional parts (front-end and back-end), integrated into ERP system: UI features, reports, dynamic grids with filtering, ordering, inline-editing, etc with functional API modules for system reports.
Harrison Publishing House is a content provider for the construction industry specializing in the plumbing and mechanical segment of the construction world.
MindK built CINX as a complex, feature-rich platform that makes it easy for companies to synchronize internal departments, systems, products, as well as project participants within an all-in-one solution: More than 20 integrations incl. estimating/CAD systems like Autodesk and accounting systems like Intuit Quickbooks. Convenient company profiles where companies link their employees and businesses they do commerce with Private catalogs for companies with material content, over 25 mil items
Technologies Stack:
CodeIgniter
MongoDB
MySQL
Industry:
Construction & Real estate
Product:
application for construction industry
Works: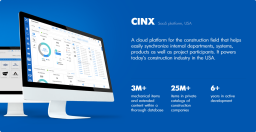 EDUCATION
Sumy State University
Bachelor of Engineering, Electronic Systems Engineer