EXPERIENCE
Industry Experience
E-Commerce & Retail, Logistics & Transportation, Photo & Video, News & Media
Product Experience
E-commerce development of online stores for delivery service, transportations management application, social app for saving your memories, News plaftorm
PORTFOLIO HIGHLIGHTS
Aug `18 – May `19
9 months
Bahama Joe's
http://www.bahamajoes.com
Our team mostly worked with the back-end of the Bahama Joe's system, for which the key technologies were Node.js and MongoDB. The features we focused on were the items search, eBay integration and shopping cart integration. We also integrated shipping calculations and payment with Authorize.net.
Technologies Stack:
Express.js
Node.js
Socket.IO
Bootstrap
Industry:
E-Commerce & Retail
Product:
E-commerce development of online stores for delivery service
Sep `18 – Dec `18
3 months
Shypple
https://shypple.com/
The Shypple project is based on popular CMS Wordpress 4.9.8. We add a theme based on HTML5Blank Theme (http://html5blank.com/). To implement some specific tasks we add proper widgets (for example Shypple Smart Tabs letting us combine slider and admin controls as tab-switches) with ability to edit data/content by means of admin panel. For more safety standard URL for admin panel was redefined, also for all the sites form reCaptcha was added.
Technologies Stack:
JavaScript
React.js
TypeScript
Redux
Industry:
Logistics & Transportation
Product:
transportations management application
Works:
Jun `18 – Nov `18
5 months
Their Story
https://theirstory.io/
The main aim of this project is to give people a place to store their memories and family stories. The system provides the ability to record audio and video calls and share them with groups. Records are stored securely to suit personal privacy.
Technologies Stack:
JavaScript
MongoDB
Node.js
React.js
Redux
Industry:
Photo & Video
Product:
social app for saving your memories
Works:
Sep `17 – Mar `18
6 months
Press Feed
https://pressfeed.ru/
Pressfeed helps reporters to quickly receive material for articles. They place a request for experts to respond to, then get an invoice for the material. The front-end part was implemented using the jQuery library. It was rebuilt by our team using React + Redux. For CSS styles, we used the SCSS preprocessor. We've implemented chat on the site using Socket.io. In the process of doing the work, React Select and DraftJS libraries were customized, converting to BBCode from HTML, and vice versa.
Technologies Stack:
jQuery
React.js
ES6
Redux
SCSS
Industry:
News & Media
Product:
News plaftorm
Works: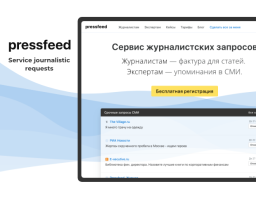 EDUCATION
Southern Federal University, Taganrog, Russia
Computer Science in Psychology, Master