About meteor developer
Hire the best 68
Meteor

engineers with YouTeam
Sort by:
Relevance
Experience
Last Update
Rate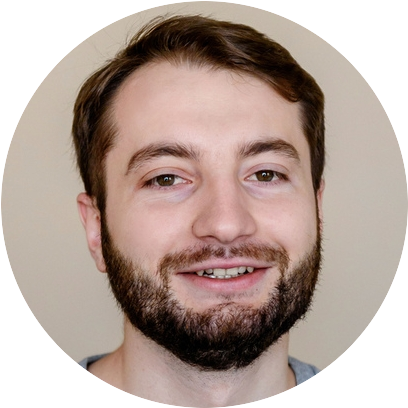 Taras S.
Front-end Developer
6+ years of professional experience in developing small to large-scale websites and web applications based on web...

Yuriy R.
Full-stack JavaScript (Node.js/React/Angular) Developer
I'm a skillful Back-end Developer with 6+ years of commercial experience in Software Development (plus 3 years of...
Sergiy T.
Back-end developer (Node.js, Meteor)
Sergiy is a professionally qualified full-stack developer with more than 5 years of experience. He is enthusiastic &...
Peter K.
I am a full stack NodeJS developer with great Travel and...
- My strengths are NodeJS, React, Gatsby. - I'm also good at Meteor and different Static Site Generators. - Now...
UTC+01:00
(Europe/Prague)
Pavel I.
Full Stack JavaScript expert with 6+ years experience...
A hard-working and highly proficient engineer with over 6 years of experience and a genuine passion for web and...

Stanislau D.
Full-stack Angular6/7/8, Node.JS senior developer
Developing and maintaining the front end and backend functionality of websites Angular6/7/8, Node.JS. Designing...
Oleg L.
Reliable, self-disciplined and attentive to details...
Oleg is passionate about code and always looks for opportunities to put his work to good use. He enjoys solving...
UTC+00:00
(Europe/London)

Volodymyr Z.
Front-End/JavaScript Engineer
A Front-End Engineer with 3 years of experience in developing web and mobile applications using cutting-edge...

Sergey K.
Senior Full-Stack developer with strong knowledge of...
Web Developer, dealing with frontend mainly (but also working with Node.js). Strong knowledge in AngularJS/Angular,...
Gegham A.
Experienced Fullstack Developer with advanced expertise...
Gegham is adding great value to our development team by writing excellent codes. He is knowledgeable in a number of...
No-one really matches your needs?
Normally we are able to pro-actively find any given talent within 72 hours.
About meteor developer
Meteor developers for Dummies Our developers are educated, experienced and prepared to begin work for you straight away. Since you may see, defining what a Meteor developer is can be somewhat fuzzy. Inside my expertise, for the large part, meteor developer  aren't building production level applications. A developer also is mindful of exactly what an API is and the best way to come up with an individual interface working with an API. Happy programmers make the ideal code. Thus, a UI programmer knows the way the system should accommodate. The Definitive Strategy for Meteor developers Item designer is a catch-all term used to consult with a designer who's generally involved with the debut of the look and feel of a merchandise. Visual designers aren't concerned with how displays connect to one another, nor how someone interacts with the item.
Web designers should also observe the markup language. A visual designer lays out guides and adjusts every pixel to make sure the last outcome is best. For instance, an individual interface designer working for a big web-based operation would most likely be expected to become fluent in various web-based programming languages, though a designer working to get a little video game startup may wish to be acquainted with various search motors and programming. UX designers explore several unique approaches to solving a particular user issue. A few UX designers are also likely to do interaction style, and frequently UI designers are called to push pixels also. Dividing layout and wireframes isn't vital. Every designer in CentricSource has been educated to provide excellent goods in the most powerful and effective way. Physical layout Decide the way the logical layout will be put into place on particular bodily platforms. Since you may see, there's a new layout in a great deal of system UI components. Top Meteor developers Secrets The Web developer's role was designed to look after the usability and the design facet of the Web page.
The part of a User Interface (UI) developer is to present the user interface approach to solve the end user, including the previous appearance, feel and behaviour of this interface in various contexts. Reading the work description is the best approach to determine the way the business's design team divides the duties. The extensive duty of a meteor developer would be to be certain that the item finely flows from 1 measure to another. If you're requesting work, any response you provide will be kept private and won't be used against you in any fashion. Like most employees in the software business, their work is virtually entirely mental and normally occurs in a workplace setting. In an perfect world, software growth jobs would adhere to precisely the same route as an algebraic equation. These days, app development has covered nearly every component of the market and established a profitable investment for those businesses. Every project differs and based on the terms above, the quantity of fidelity needs to be tackled on a case by case basis.
Since you might or might not take note of, React was really inspired by another project named Elm, which isn't a JS library however an entirely various programming language. The job of the Web Designer was supposed to design and make a page without considering the functional particulars of the page. The tasks of an Internet designer proved rather restricted, but at exactly the same time they were quite important also. A Web designer's chief task was supposed to design the interface only. Everyone here was pleasantly surprised by how professional the whole design procedure was. " Programs are currently including complete 360-degree animations of product which are making static photos obsolete. If you're not using one, you are not building an application or you're merely missing out on something.