Hire the best 539
engineers with YouTeam
Sort by:
Relevance
Experience
Last Update
Rate
Mariano G.
Professional software developer with expertise as...
- Professional software designer with more than twelve years of experience as a software analyst and software...
UTC-03:00
(America/Argentina/Buenos_Aires)
Yehor P.
Senior Flutter Engineer
Highly-motivated, responsible and communicative person who is interested in cross-platform development and front-end...
Kostiantyn B.
Technical Leader/Senior Software Developer with 14 years...
I have 14 years of experience in software engineering. On projects, I was involved in my roles were:  creating...
Lukas R.
Team lead front-end architect
Front-end developer and tech lead with enterprise level experience
UTC+01:00
(Europe/Warsaw)
Daniel Montiel C.
Middle Fullstack developer experienced in java and react
1. I am working on the business innovation smartvoice project 2. Participate in the creation of a mobile application...
UTC-06:00
(America/Mexico_City)
Ostap S.
Full Stack developer .NET, ASP.NET, Angular2+
I am a Full Stack developer with industry experience building websites and web applications. My main tech Stack (C#,...
Iryna P.
React Native Developer
JavaScript developer with extremely deep knowledge of mobile apps development. Undoubtedly passionate about building...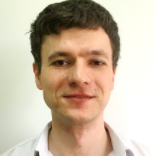 Andrii M.
IOS developer with good backend expertise specialized at...
Andrii is the responsible software developer with over 7 years experience in software development. He participated in...
Biljana S.
Medior Software Developer
Software developer with more than 7 years of experience. Development and maintenance of ADMS outage management...
UTC+01:00
(Europe/Belgrade)

Milan K.
Junior Software developer
Developing and maintaining ADMS outage management software features on Schneider Electric DMS Web applications....
UTC+01:00
(Europe/Belgrade)
No-one really matches your needs?
Normally we are able to pro-actively find any given talent within 72 hours.