EXPERIENCE
Industry Experience
Logistics & Transportation, Healthcare & Medicine, Beauty & Personal Care
Product Experience
Corporate website
PORTFOLIO HIGHLIGHTS
Transport Management System
TMS for USA Motor Carrier & Trucking Company. The company provides a full array of TL and LTL services in dry, van and refrigerated and flatbed containers. As an All-In-One Software, the TMS is aggregating different blocks: Safety, Dispatch, Maintenance, that's why for application architecture, was applied the micro-services approach. Every service is created on .Net Core 2. and for each such block was developed RESTful services, which can then be merged with a single UI interface in Angular 5
Technologies Stack:
Sketch
Illustrator
Photoshop
Industry:
Logistics & Transportation
Works: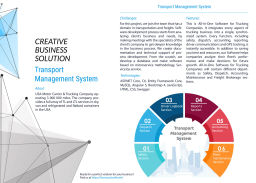 Design the Medical iOS App and Website
The design was created as a health care service for the iOS App that empowers users to better manage their health, connect with providers in meaningful ways, and take care of the ones you love.
Technologies Stack:
Illustration
Photoshop
Industry:
Healthcare & Medicine
Works:
Jan `18 – Mar `18
2 months
My Molly
The creative, colourful and unique design was developed for the beauty salon. The website represents the full spectrum description of the services and abilities to book for them; include the update with the latest works and news. User-friendly design attracts users and introduces the beauty salon in the best lights.
Technologies Stack:
Logo Design
Illustrator
Photoshop
Industry:
Beauty & Personal Care
Product:
Corporate website
Works:
EDUCATION
Lviv Polytechnics
Master's degree, Applied Linguistics