EXPERIENCE
Industry Experience
Banking & Finance
Product Experience
Blockchain-based platform, ICO Tokens, ICO
PORTFOLIO HIGHLIGHTS
Securitize
Writing understandable code, follow functional and technical requirements
Securitize is proud to provide industry-leading tools and services for issuers of, and investors in, digital securities. We are dedicated to providing our customers with services that will ensure their funding and capital management success.
Technologies Stack:
Node.js
React.js
Industry:
Banking & Finance
Product:
Blockchain-based platform
Works: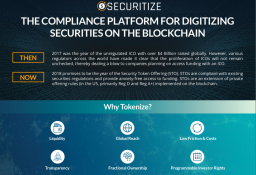 Jan `18 – Aug `18
7 months
Zafeplace
Zafeplece is platform which provides access to the Ethereum solutions. Zafeplece included user controlled Ethereum wallet and solution for easy integration of third party services. Integrated KYC system and blockchain based Identity mechanism are helping to obtain top level security.
Technologies Stack:
Node.js
React.js
Product:
ICO Tokens, ICO
Works: